Reclaimed wood is a great example of sustainable construction and design. Old barns, factories and warehouses no longer in use become the source of unique timber that can be applied for both exterior and interior purposes.
Air-dried and weathered throughout centuries, reclaimed wood possesses all the main qualities of a truly good product - it's environmentally friendly, durable, and timeless.
Using reclaimed wood is a perfect way to introduce nature preservation and a responsible attitude towards recycling into our workplace.
First, no trees get cut down and you don't contribute to continuous deforestation.
Second, reclaimed wood is a safe, natural material to be around.
You'd be surprised, but durability of reclaimed wood is better than that of new timber. Why? You may ask.
It's because reclaimed wood often comes from antique construction appplications that were built from strong, old growth trees, which withstood the test of harsh weather conditions for hundreds of years before being harvested for use in a structure close by.
All of that combined enhances the features of woodwork we all know and love: natural, steady color, sense of belonging and history, patterns one could look at forever, and warmth. These attributes are generally associated with home, but here we will be talking about adding these enhancements at the office.
Wood walls and furniture were used in workplaces to give them that old-fashioned, somewhat stern and formidable look we expect from something persevering and powerful.
As with the changes in use of the buildings we use for sourcing this wood, the 21st century office designs offices strive to look spacey, fashionable and efficient. They also strive to have the much-missed sense of stability, a thing many believe to belong in the past.
Is there a way to achieve that? Is there a way to unite power, elegance and warmth in one place?
The answer is yes, and the answer begins by considering reclaimed oak.
Good, Solid Foundation In Reclaimed Wood Flooring

Idea #1-Have you thought of reclaimed wood flooring?
Oak wood has been featured in exterior and interior design since, well, forever. Oak wood stands out among other varieties thanks to its pronounced grain and rich tones of red and brown.
If you need a simple solution that'll give your office the desired bright but solid look, incorporate reclaimed oak into the design. For an overall feeling of warmth, consider reclaimed wood flooring, in particular.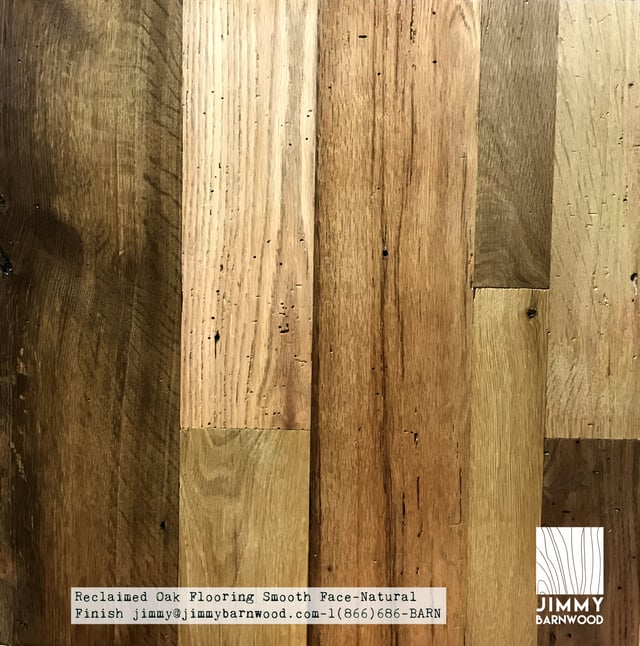 We harvest the wood from these old structures, and then we plane and mill the original oak wood timber into floor boards that can have a more smooth modern look or more of a rustic look. Want to stay in the middle? Consider skip planed reclaimed oak flooring.
Wider boards are the classic variant, while narrow boards fit nicely into a more upbeat design. A mix of wide and narrow gives the floor a look of random patterns

Don't worry that reclaimed wood might limit your options. In case the pattern and the color (which varies from lighter brownish all the way to the deep dark tones, by the way) themselves aren't just that for you, you can try blending reclaimed white oak in with the red, or utilize old circle saw marks utilizing skip-planing.

Whichever type you choose, you are guaranteed the wonderful knots and nail holes that complete the refined image and purpose of reclaimed wood. Also: whichever type you choose, your reclaimed oak floor will stay strong, water-resistant and durable for at least another hundred years.

Creating The Right Environment With Reclaimed Wood Walls

Idea #2-Reclaimed wood walls are in!
The blending technique of many types of oak is no just as impressive in reclaimed wood walls. While choosing a reclaimed oak mixed wall for your office, keep in mind that the key to a successful design solution is the good combination of texture, color and purpose.
Here options are as plentiful as with the flooring. A thick wall of darker color will become a strong, recognizable accent for your office, while also effectively dividing it into rooms.
We fix the bent and warped timbers, planing them to ramrod straight, but they could actually turn into an attractive design decision if you organize them in harmony with the rest of your office.
You can add reclaimed white oak if you'd love a quieter shade, or go for the skip-planed option. However, a wood wall might make a smaller office look overcrowded, and steal the whole attention.
No need to give up on the idea! The necessity to allow as much light as possible won't stand in the way of reclaimed red oak paneling. Apart from obvious aesthetic advantages, it protects walls far better than any other material, such as plaster or sheetrock.
Several More Ideas For Bringing In History And Purpose To Your Commercial Space

Reclaimed oak flooring and reclaimed wood walls installed with reclaimed oak are the strokes of a bigger stylistic brush, which might be beyond your budget or too much wood to take in. Fortunately, countless design ideas are there for you to pick and choose between any piece of reclaimed wood furniture you want to get.
Idea #3-A reclaimed oak desk?
The most popular choice is, of course, a desk, either regular and built-in. It will provide you all the options mentioned above (variations in color, blending red and white oak, skip-planed, etc.), and will allow you some more creativity in choosing the shape of legs and chairs.
Idea #4-How about a reclaimed wood conference table made of oak?
Oooh, now your talking....No pressure, but putting a nice big reclaimed oak conference room table would definitely leave a good impression on your customers too!

Are you excited yet at the prospect of bringing reclaimed wood into your office in fine furniture composition?
Idea #5-What about some reclaimed wood shelves?
Here is a trendy idea for you....shelves, yep reclaimed oak shelves could surely give you a warmth and fell of wood on a much smaller scale. Built in reclaimed wood bookcases are great, but a modern-looking shelving unit will fit much better in a modern office. It's light and fashionable, but capacious enough to hold all your files, books and booklets.
Don't forget the flowers! You could give them a space of their own on separate shelves, and this is where we would recommend the warped reclaimed wood for a more extraordinary look.
Enough already?
Well we could likely go on with ideas for eternity because we sort of like the stuff! Our passion is re-purposing the history of these old wooden structure into products that will last well beyond our lifetimes. Placing the timeless beauty of reclaimed wood will provide an inviting, positive vibe throughout your office.
Oak would be one of many excellent choices, but in the case of a heavy use commercial seating, any of the Oaks, Red, White, Black, or Swamp Oak will provide excellent durability and coloration.
Whether you choose a quieter or a louder tone, reclaimed oak is a statement of reliability while providing a modern approach and good taste. Take your time selecting what works best for your office, and it will work out the best in the end.

Need Help....Maybe have a few questions?

Written by
Jimmy Hovey, MBA
I started my first business when I was 14 years old and have been working in my own businesses or family businesses ever since the. My parents placed a high value on education and instilled a strong work ethic. We fixed and built our own stuff including homes while I was growing up. I love to write and author both this blog and a blog on energy efficient lighting. I have 4 kids and live in Michigan. You can contact me below.