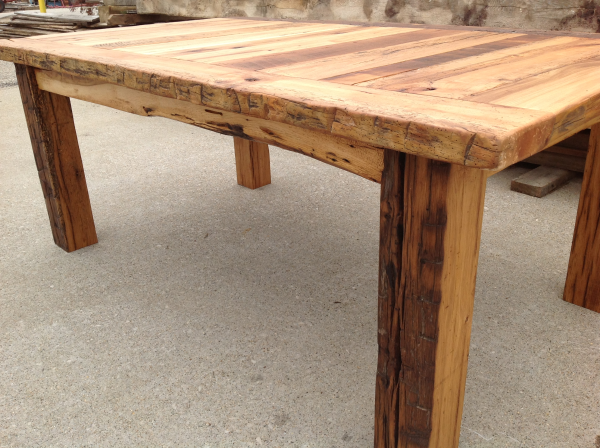 I had a question today regarding commissioning a reclaimed wood table;
Andy asked, "I would like to know more about your process and how much your tables typically cost?"
That is a great question that I get occasionally, so I decided it was time to write out the process for commissioning a reclaimed wood table. While it really isn't too complicated, there are quite a few steps along the way. Cost is obviously a part of the equation so we cover that a bit too.
While I say it's not too complicated, this article still ended up a little lengthy, but takes you step by step through the process.
Here's how the commissioning process goes;
1. You find me
I guess this is sort of obvious since you are here, but the commissioning process really begins with the initial contact. Most of my leads come from Facebook or Ads I have placed on Craigslist, referrals or through my writing here on the website that attracts Google rankings.
If you like what you see, or just want to learn more, then I have you fill out a form. In that form I always ask "what's one thing you want to know about reclaimed wood tables?". I do this for 2 reasons:
I want to understand what is the most important information to you
It helps me find ideas to write about. If you have questions, then it is very likely someone else in the World has the same one (for example this article is from one of those questions)
2. What do you want your table to look like?
In order to help better identify exactly what my clients are looking for, I created a PDF, "73 Things to Consider When Buying A Reclaimed Wood Table", click on the blue link or hit the big blue button on the top right of this page).
This is a simple one page pdf that helps you, the client, think about all of the different elements that can be integrated into your new table. It also helps me direct you to tables that I think match your style or even to identify dislikes, so I make sure I don't send you any of that information.
3. I find images
Typically, I do some research to see if we can find images of a table you like or a few tables that we combine the characteristics to build the unique table for your home. Table dimensions are pretty standard, so it is a matter of fitting the design to the typical elements such as table height, table width, and others. Here are the 3 sources for images.
My own portfolio
My personal portfolio is of reclaimed wood tables that I have built or other types of furniture pieces. This is continuously growing as we continue to build more tables. At this point that includes 10 tables in 4 different types of tables.
Here's some of them: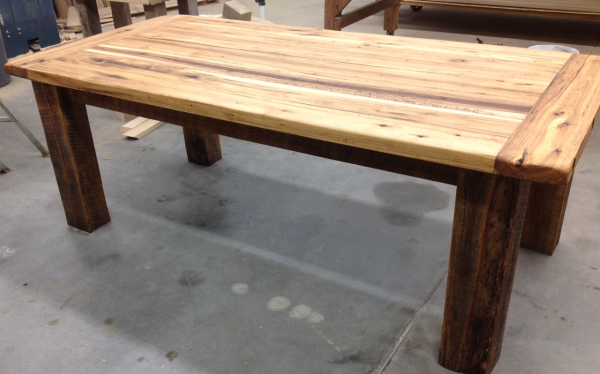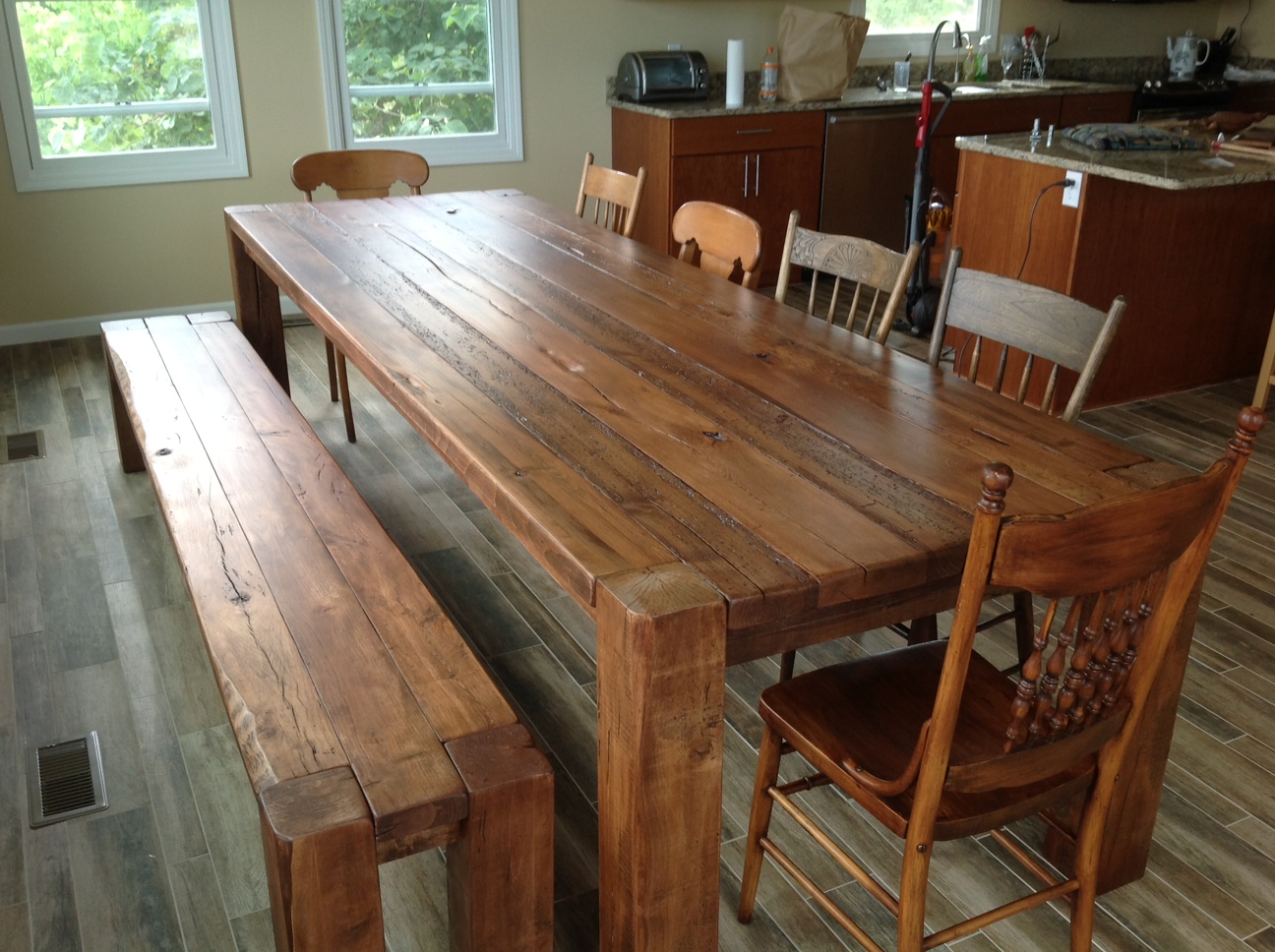 I am honest with my clients in understanding that this is a new and growing business. We don't have 20 years of images to share with you. While we are new to the reclaimed wood business, we are not rookie's by any means and I have been building with my Dad since I was 7 years old and started my first business when I was 14.
We rely on the Internet to help identify the table that is right for you. While it may not be in our portfolio yet, that doesn't mean that we can't build it for you. In fact, I would never commit to building something that I couldn't do....and I use 2 websites in particular.
My boards at www.Pinterest.com
If you haven't been on Pinterest, then you are really missing a great opportunity to see different ideas from all over the world. You can use Pinterest in many different ways from goofy sayings, to drink recipes, to silly pictures. Pinterest is a visual experience.
I choose to use Pinterest as a business tool ( I wrote an article about "Pinterest for Business Marketing....", just click here to go to the article). It allows me to identify ideas and concepts of tables, as well as many other types of reclaimed furniture, and keep them on my board to help you identify what you like and dislike.
You can do the searches to, but if you want to save time, the majority of my boards relate to reclaimed wood.
My idea books at Houzz.com
Houzz.com is another great bundle of ideas expressed via images. This is a showplace for homeowners, and professionals to show off what they have done. As a Professional, I can only upload pictures of my pieces in a residential setting. So the images here tend to be super professional and of a whole room versus a specific piece. You can also click on the tags on some of the images to see the cost of a particular piece of decoration or furniture.
Based on the answers you provide via the pdf I mentioned above, I create an "idea book" for you and provide a link to the idea book to see if there are any tables that you like. If you don't like any of them, then we start back over. But if you don't like any of them, then I need to find out why and go back to looking for additional images.
When we find one we like, then we move on to creating a simple drawing.
4. Get a price range
I love my work so much, I would do it even if I didn't get paid, BUT, I have a 6-person family who eat ALL the time!! So back to reality....
The cost of each table is figured individually. Since at this point, we don't have all the particulars figured out, I will give you a price range.
The price really depends on what you are looking for. There are a lot of factors that go into a table. After I receive the questionnaire that I mentioned above, I can give you a better idea on price or at least a price range.
I would say on average, the tables run anywhere from $1,500 - $5,000 and some go much higher than that. This is just a range for what I typically see. When we talk in our first phone call or emails, I can give you a rough range. If that range works for you, then once I have a good idea of the type of top you want and style of base, I can give you a exact quote.
While there are several factors that determine the cost, the amount of labor is the largest cost of all. These tables are built using machinery, but they are not built by the machine. Each table is hand built.
In the end, tt somewhat depends on what type of design you are looking for. The more complicated and larger tables are more expensive, where the smaller, less involved tables would be less.
5. Drawing for approval
When we have identified an image of a table, or several images for that matter, then I do a simple drawing to layout the dimensions. This puts the specifications down on paper so you know exactly what I intend to build for you.
It helps me envision any problems that I may see. When you approve the drawing, then we move on to getting a commitment. Here is one that I just completed,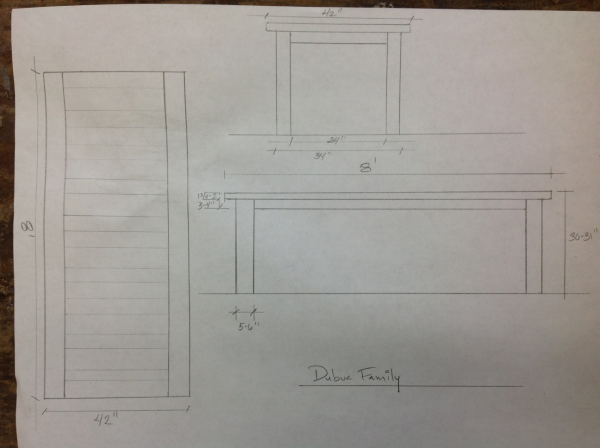 Once we have an approved design, I will provide you with a final cost which will land somewhere in the range. Now it's decision time....
***Note - I just want to point out that there is no commitment on your part until we get to the deposit. Everything ahead of this point is preparation to move forward.
6. Deposit
If you want to commission a table to be built, a 50% deposit is required to begin the build on your table. This is the time that you are committed to move forward and we commit to building the table for you. Tables are custom, so once we assemble the wood and start cutting, they may not be usable for another project.
For example if I cut 6' from a 10' board for your table, then the 10' board is no longer usable for another project and 10' tables are very popular.
We don't require any other funds until time of delivery.
7. We start building your table and provide updates during the building process
The typical table builds include 3-5 emails telling you exactly where I am at in the process and usually includes pictures. I am very committed to open communication, as I understand the worry that many come along with this process and entrusting me with thousands of dollars. The best part is, you are informed and can see that your table is coming together.
Here is a picture of me getting a start on a table: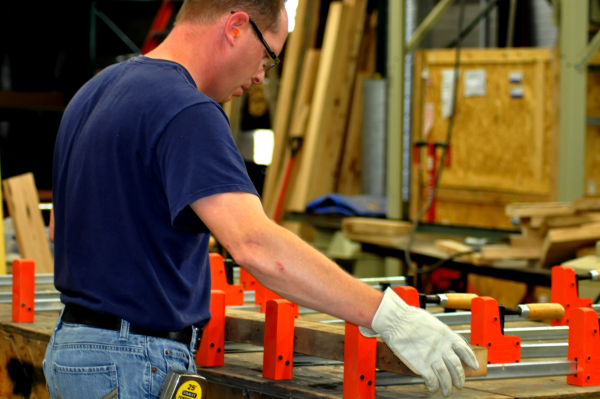 I also use the updates to suggest possible changes to the design, choose stain colors, and ask questions about "...would you prefer this.. or would your prefer that...". The table is an evolving piece, so naturally questions will arise during the build.
Most importantly, I also believe that by providing you with images of the table during the build will identify things that you may not like. If you see something you didn't like, then we could make the change during the build rather than after the table is all completed. Here are a couple of images that I sent as updates:
This is the image from Update #3 - Choosing stain colors:
This is an image from Update #4 - It's almost done: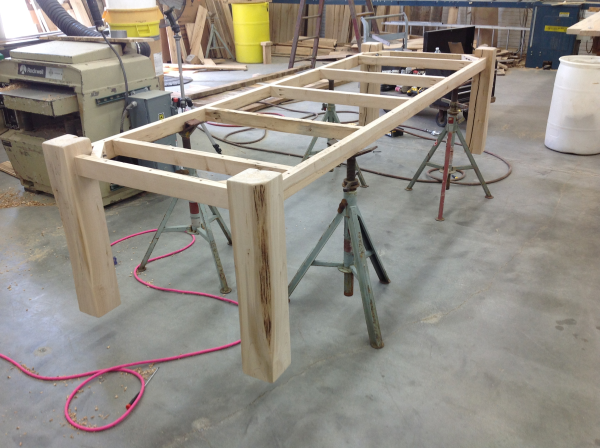 Image from Update #5 - It's Done: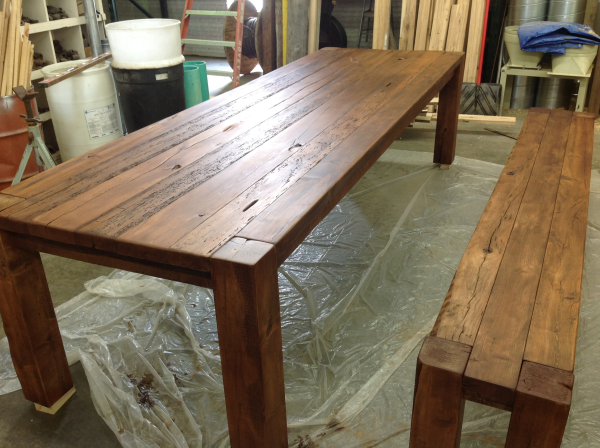 8. The "It's Done" Email
This is my favorite update, "Its Done". This is the final email update I provide and where I show the final pictures of the table in the shop or if you want to be surprised, I can hold the picture. Either way, pictures never really do the table justice, in person is way better.
9. Setting up delivery
The "It's Done" email is also where we discuss options for delivery. We are pretty flexible with delivery and can schedule evenings or weekends depending on schedules. There are couple of things I should mention about delivery:
Line up some help - these tables are solid and heavy! It can take 3-4 people to handle the top depending on how complicated it is to get into your house. I typically separate the top from the base so that it is not so heavy, but both pieces can be a load.
Most tables require setup in the home. This is where I make final adjustments and fasten the table down for the final time involving the hold down screws. I like to make sure everything is tight, so I use the same clamps that I use to put the parts together.
Cost invovled - I'm not looking to get rich from delivery, so I try to make it as reasonable as possible, most likely just my out of pocket gas costs. The vehicles I use to deliver don't do so well on gas, so I provide ranges for the quote, then look at the cost just before delivery.
10. When I arrive for delivery
I love it when my clients see the table for the first time....
Besides actually building the table, this is my favorite part. It's almost like the excitement you see in the commercials where Publishers Clearing House gives away money!
Like I mentioned above, seeing the table in person is way better than the pictures. Usually lots of "wows" and smiles, fun to see the reactions to your work, very satisfying for me personally.
We get the table in the house
As I mentioned above, you have to get it inside, so make sure you have an extra hand or 2. The top is usually the wild card as far as weight, there's really no way to measure it and we usually use a forklift to load, so I am not too sure other than to say, It is HEAVY!
I do final assembly and finishing touches
Once we get the table in the house, in its spot, I will clamp down the top, install the screws that hold it down and inspect for any problems.
Uneven floors can also be an issue. Unfortunately few floors are even, so even if we build it level in the shop, we can find that the table doesn't sit right at delivery. In the last delivery, the table sat level, but the bench did not, while both were built to sit level, some adjustments had to be made.
How Long Does This All Take?
Design process takes on average 3-4 weeks (up to you)
This varies quite a bit, but based on what I have seen takes anywhere from 3-4 weeks. The length of time in this phase is really based on how fast you make decisions, so it can be as little as a week.
1-2 weeks to Start the building process (up to me)
We are a small shop, so for now our lead times are anywhere from 1-2 weeks. The 3-4 weeks in the design process gives me a pretty good idea what is coming, so I slot the time accordingly.
If the wood
IS

ready, 2-3 weeks to complete the table (up to me)

If we have the wood in stock (meaning, cut, kiln dried), then it takes about 2-3 weeks for the actual build. A few days for the top, a few days for the base, 3-4 days for the finishing. \
IF the wood
IS NOT

ready, 2-3 weeks additional

While we have a lot of wood in stock, not all of it is in ready form to be turned into a table. We build most of these tables using barn beams, so we have to do the following:
Clean the timbers
Determine yield
De-nail
Double check de-nail
Saw wood on band saw
Kiln dry the wood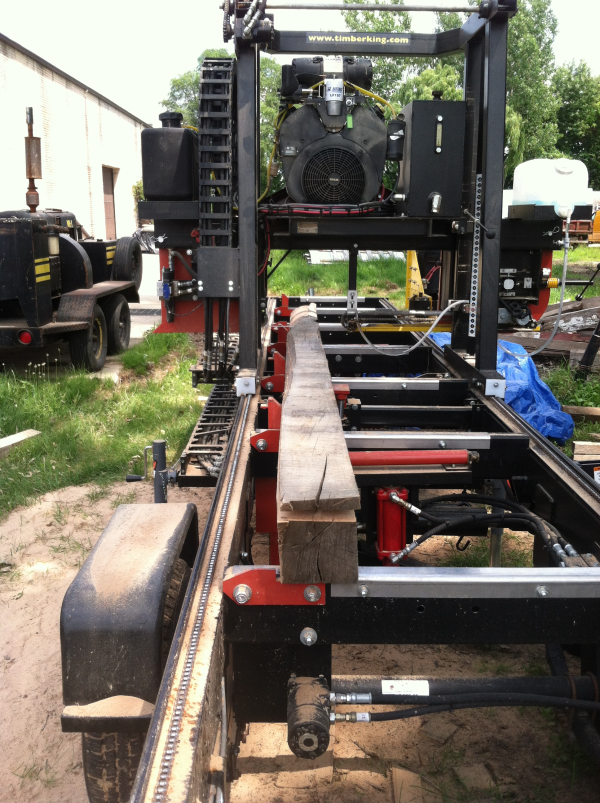 As you can see there are quite a few steps to getting the wood ready. We always have wood ready to go, and we try to stock what we think customers will want so we always have some options.
What now?
If you are ready to look into working with us further, the best place to start is with the questionnaire I mentioned earlier in this article, "73 Things to Consider When Buying A Reclaimed Wood Table". You can send me a quick email with your answers. My email is jimmy@jimmybarnwood.com.
If you haven't filled out a contact form or can't find that email, just click the button below.

Written by
Jimmy Hovey, MBA
I started my first business when I was 14 years old and have been working in my own businesses or family businesses ever since the. My parents placed a high value on education and instilled a strong work ethic. We fixed and built our own stuff including homes while I was growing up. I love to write and author both this blog and a blog on energy efficient lighting. I have 4 kids and live in Michigan. You can contact me below.