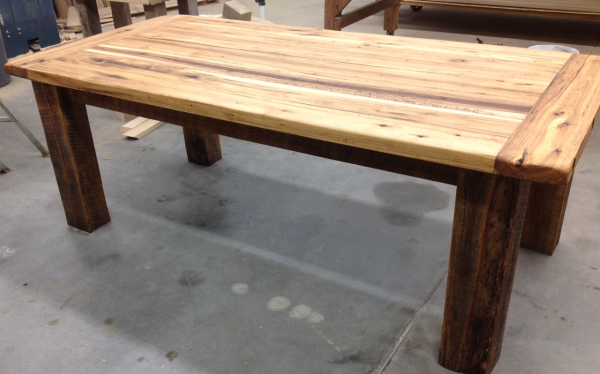 Reclaimed Wood Table Made From Antique Hickory
Antique Hickory table now available....no waiting on this one!! I built this table along with a couple of other tables that I had in my shop.
When you are building tables, you can't always move to the next phase without waiting, so it only makes sense to have a project or two on the side so that you aren't wasting time in the shop.
I thought I would give you a little background on where the materials came from and some of the story behind it...read on....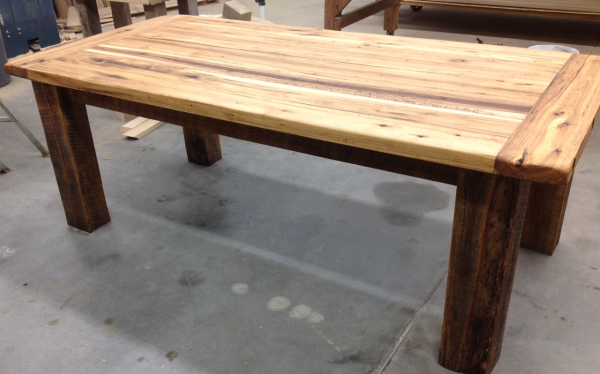 Plus I want to see if I can actually sell something I have already built vs building commissioned tables. There is a little more freedom to try things when there are no specific specifications.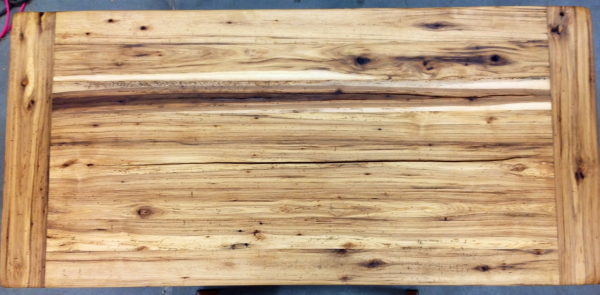 Where Did The Hickory Come From?
The Hickory used for this table was salvaged from a very large barn that was built in Blissfield , MI. The barn had fallen to disrepair and was really at the point that the only option was to bring it down. Sad, but at the same time it's pretty cool to bring these new projects to life from that old barn wood that has been part of this structure for over 100 years.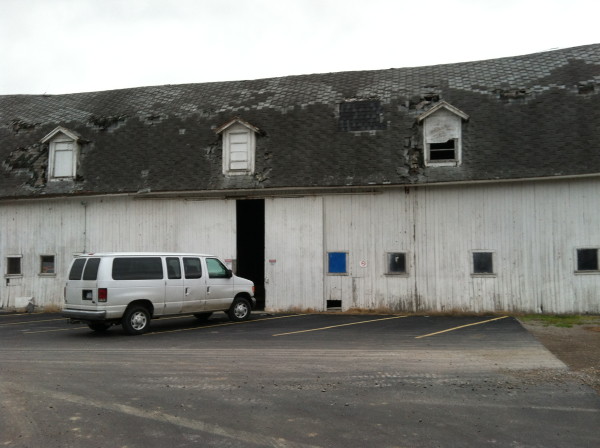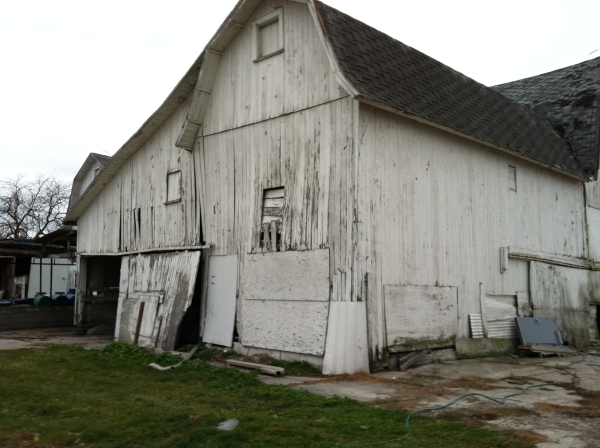 After:
What Were The Beams Used For In The Barn?
The Hickory beams in this barn were primarily the "sleeper" beams. They held up the 2nd floor of the barn. Most of the beams were 6x6 or 8x8, they vary quite a bit. You can see the floor beams in this picture below.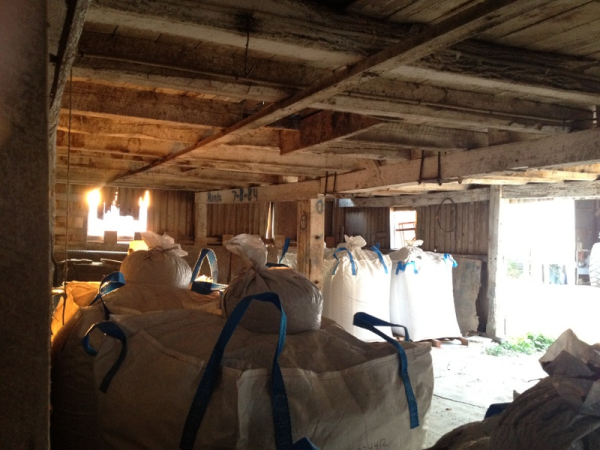 Most of these old barns were built from wood that was within a mile or so of the location of the barn. If you think about it, they didn't have semi-tractors in 1903 to haul this stuff from miles away, so you simply used what was available.
Hickory is becoming one of my favorites!!
Hickory is really an amazing wood. According to Wikipedia:"Hickory wood is very hard, stiff, dense and shock resistant. There are woods that are stronger than hickory and woods that are harder, but the combination of strength, toughness, hardness, and stiffness found in hickory wood is not found in any other commercial wood."
I love the contrasts in the grain...just beautiful!
"....is this wood REALLY from barn beams?"
With this table I blended textures, smooth and rough, to get a striking contrast between the two.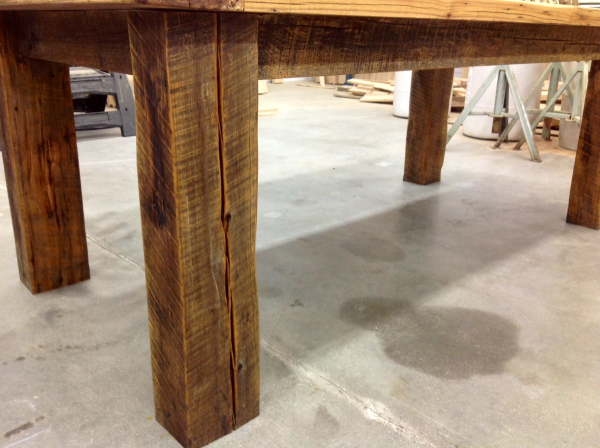 But, It also answers a question I get all the time "...is this wood really from barn beams..." the wood for the top of this table was resawn from beams that were just like the legs holding up this table. You can see the original "old" form and the "new" form the wood takes to create this amazing top.

How Big Is It?
The table measures 7' long, 40" wide, 30" tall and the top is 1 7/8" thick. The wood has TONS of character. Hickory is one of the strongest woods in existence, and with that comes some major weight, this sucker is heavy.

How Is It Finished?
I finished the table using Teak oil to maintain as much natural color in the grain as possible. I like Teak because it dries from the inside out, AND if you do ever scratch it, just add a little oil, and it will look like new. If you absolutely need poly, we can add a few coats of that as well.
Does It Have Character?
This table has a ton of character....the dynamic grain patterns, knots, splits in the wood, the old insect marks from long ago as well as some character that I put in with the sanding process. The idea is to create a vintage look, and there are some tricks to doing that. Check out a couple of close-ups of the character...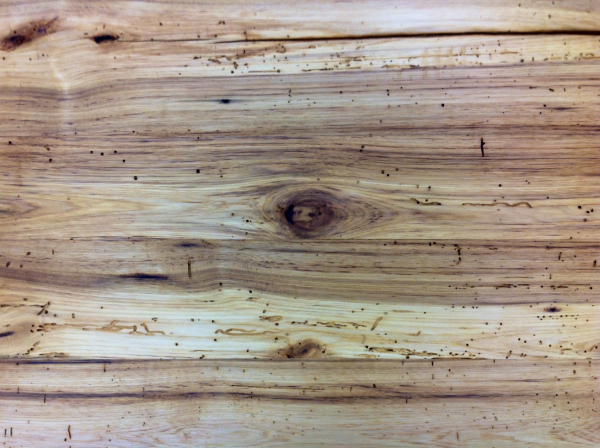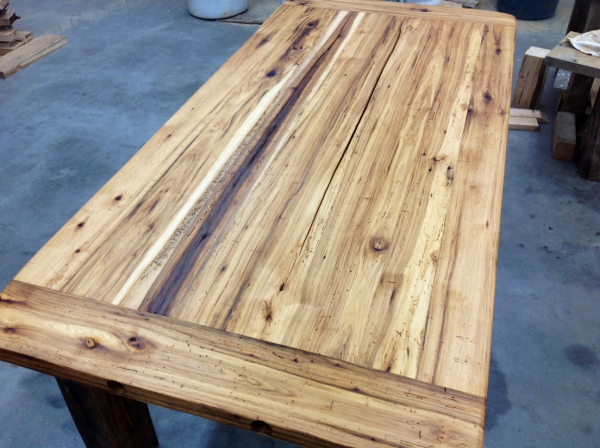 How Much?
I made you wait til the very last paragraph....I am asking $2,900 for this table. It is ready to be delivered if your the lucky one to get it for your home.
I have already decided that if it doesn't sell, it's coming to my house. My 4 year old son told me recently when inspecting my work in the shop that "Dad, you need to build Mom one of these tables".
I actually built the table in a style that I knew she would like...so in the end, one way or the other this table will find a good home! I'm thinking it won't last too long....what do you think?
Interested?

Written by
Jimmy Hovey, MBA
I started my first business when I was 14 years old and have been working in my own businesses or family businesses ever since the. My parents placed a high value on education and instilled a strong work ethic. We fixed and built our own stuff including homes while I was growing up. I love to write and author both this blog and a blog on energy efficient lighting. I have 4 kids and live in Michigan. You can contact me below.