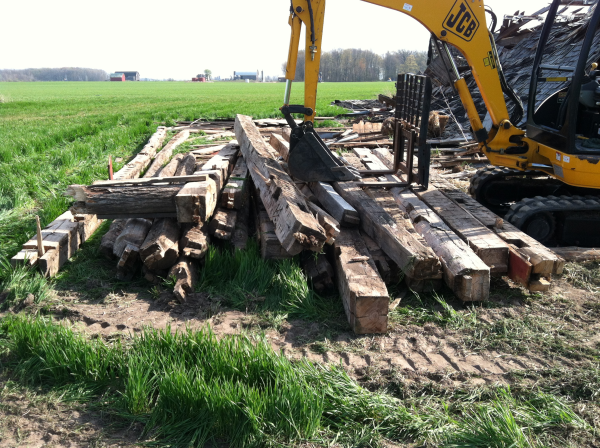 1. Where Does The Flooring Come From?
We manufacture wood flooring from wood barn beams, siding, grainary, and floor boards that we salvage from old barns. Most of the material is from Michigan, but we also buy material from different suppliers depending on the need and that material can come from Indiana, Tennessee, Kentucky or Ohio barns.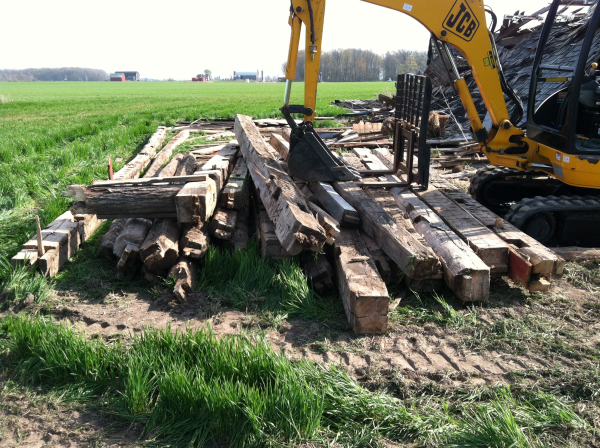 This is a load of material we brought back from Indiana, so you can see the different ways we get the wood.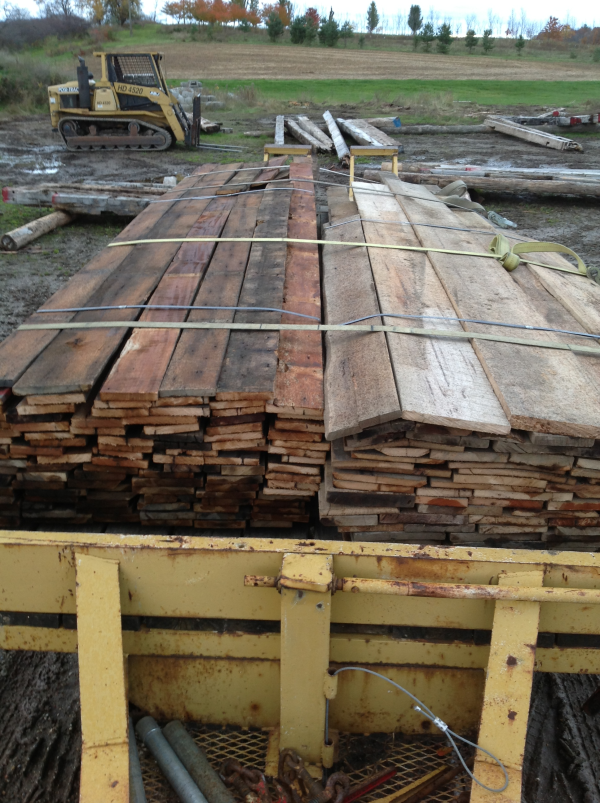 These barns were typically hand crafted with wood that was very nearby where the barn was being built since there really wasn't much transportation in the early 1900's.
Most of our barns have 4-5 different species depending on where in Michigan they are located, so we manufacture the flooring the same way using a variety of species.
2. What Types Of Wood Do We Have?
Our inventory changes, but at the moment we have (the following list is linked to the The Wood Database if you want to learn more about the varieties) Swamp White Oak, Elm, Ash, Sycamore, Hickory and Pine. We can do a hardwood mix specifically, its a bit more expensive because of the labor involved with sorting.
The mixed species is the least expensive because we don't have to sort by variety, but we can. Since the species are usually mixed, we incur additional costs because we have to pull material from 4-5 barns to get consistent species or source from the suppliers I mentioned above, which also carries a higher cost.
3. Is It Tongue and Groove?
We make our flooring using a professional Weinig 5 head moulder system. We also have straight-line rip saws and straight end cut saws. The Weinig machine is essentially a CNC machine for wood, so we get very high quality, consistent material.
The Tongue and Groove profile we use make laying really easy, and there is a nail edge that follows just above the tongue so the nail can actually embed when you are laying the floor.
4. What Widths Are Available?
There are many different sizes of beams and we cut those beams to maximize the width of each beam, usually 4-7", sometimes wider, especially in Pine. Our machine will process 2"-8", but the 8" is the most rare.
5. Costs?
So, the most inexpensive reclaimed wood flooring is mixed varieties, with variable widths to the nearest inch, such as 2", 3",4",5",6",7". We usually try to provide 3 widths, unless you are looking for more varied widths.
Board lengths vary from 18"-10-12'. We would need to know your longest running length so that we make sure you have enough lineal feet of each width that we provide.
Material will be 1/2", 5/8", 11/16" or 13/16" depending on the stock we have at the time. Your entire order will be the same thickness.
Cost per square foot depends on grade of flooring, thickness, and variety. We can do single species, and single widths, but that adds additional costs to processing which can add $1-2 per square foot. Rare varieties such as Walnut or Chestnut can be much more.
Please email us for current pricing.
6. Is The Wood Floor In Inventory Or Made To Order?
As far as timing, the more time ahead the better for us, especially if you want to be more specific with varieties or single width. We are often cutting material for other projects and utilize the leftover pieces to turn into flooring.
If I have your project in mind, I can begin to gather up blanks. It would only take me about 2 days to process the flooring from blanks (for 1000-2000 sq ft), but usually takes 4-6 weeks to get from original beam to the 1" thick blanks that we use to process the floor. The beams have to be cleaned, denailed, sawn to size, kiln dried, ripped to width, remove waste then process in the moulder. There are a lot of steps involved.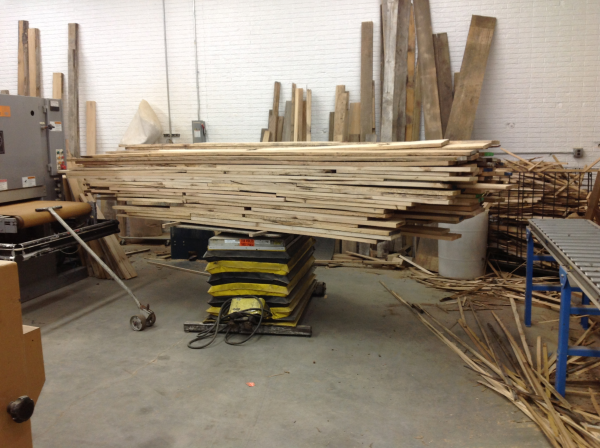 We are working on building inventory, but if often depends on timing and sales. It's best to check with us and let us know any time constraints right up front.
7. What Will Your Floor Look Like?
The most common reaction from people who visit my shop and see the material is simply "WOW", yes, almost every time. That will be duplicated by those who visit your home if you use this amazing flooring in your home.
The look of the floor really depends on the wood that is being used. With beams, you never really know until after the material is sawn into blanks. It can be easier to see with siding or other barn boards that are already in the 1" size, but the beauty of the wood is never really revealed until after it has been processed.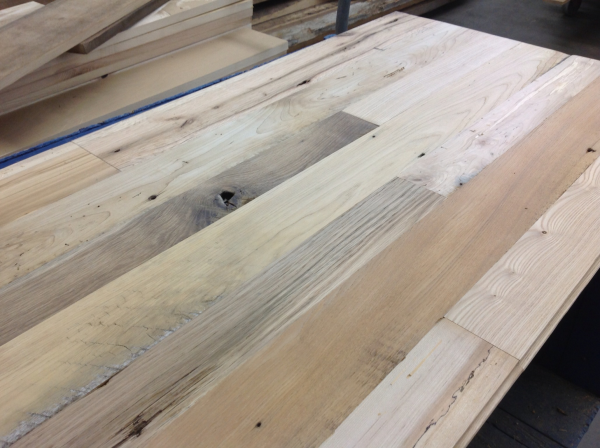 But the same boards look even different with finish applied....see here....

In a home....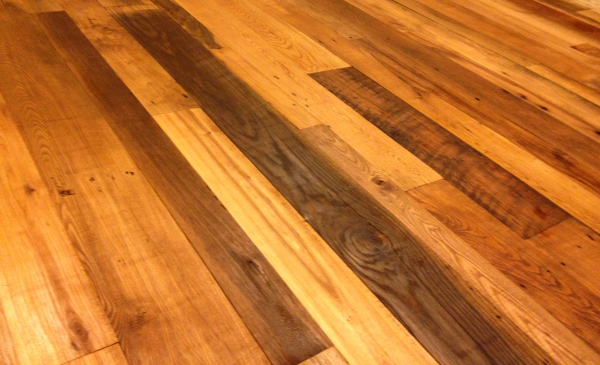 Interested In Reclaimed Barn Wood Flooring For Your Home?
There is nothing as beautiful as reclaimed wood....that is...as long as you like tons of character, color, texture and you love the idea of recycling wood. Let us help you make your home one-of-a-kind.

Written by
Jimmy Hovey, MBA
I started my first business when I was 14 years old and have been working in my own businesses or family businesses ever since the. My parents placed a high value on education and instilled a strong work ethic. We fixed and built our own stuff including homes while I was growing up. I love to write and author both this blog and a blog on energy efficient lighting. I have 4 kids and live in Michigan. You can contact me below.